Iridescent is the third US single and fourth international single taken from Linkin Park's fourth studio album A Thousand Suns, following Waiting For The End in the US and Burning In The Skies internationally. Iridescent is also simultaneously acknowledged as the lead single from the Transformers: Dark of the Moon soundtrack, which marks the third time the band have partnered with the franchise following What I've Done in Transformers and New Divide in Transformers: Revenge of the Fallen. An alternate edit of the song was also mixed for the release of the single, which features a slightly more up tempo verse and a shorter runtime.

A video directed by Joe Hahn was shot for Iridescent beginning April 14th, 2011 and was released June 2nd in the build up to the Transformers: Dark of the Moon movie release which premieres June, 29th, 2011. The video features ambiguous references to the A Thousand Suns album art and features the band performing amongst Transformers shots. The video was shot in black and white for the majority and also features the alternate edit of the song.

The single was released digitally May 30th and features Iridescent, New Divide and What I've Done, studio versions taken from their feature Transformer movies, respectively. A US promotional single was also released containing Iridescent (Transformers Edit) as the only track.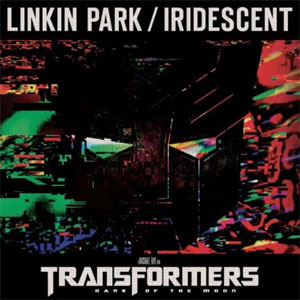 Record Label: Warner Bros.
Release Date: May 26, 2011
Produced by Rick Rubin and Mike Shinoda
Formats: CD, Digital Download