BURN IT DOWN is the debut single from Linkin Park's fifth studio album, LIVING THINGS. The single was released on April 16th, 2012 to radio and as a digital download. The song was also made available to stream in full on the band's official website and via a lyrics video on YouTube.

To promote the single, a series of puzzles were presented on http://burnitdown.linkinpark.com in the weeks leading up to the single release. Fans were challenged to solve mosaic puzzles that would reveal the BURN IT DOWN cover art once all 16 pieces were completed. Upon completion, the website presented a video game that would allow fans to hear brief clips of the single until ultimately releasing 30 second previews of the song.

Chester described the single as an up-tempo track in which the hooks and melodies set it apart from anything else. It was said that BURN IT DOWN is a great example of what Linkin Park wanted to do with LIVING THINGS, by encompassing all of the band's body of work and using this to formulate the direction of the new album. The themes of the song resonate with the fundamental structure of relationships and how we build them up and tear them down at the hope of starting something new.

A video has been filmed with director Joe Hahn and is scheduled to be revealed following the single release.

BURN IT DOWN is available via digital download. A CD single will be available in both Japan and Europe featuring additional live tracks recorded at the iTunes Festival. The Japan version doesn't contain What I've Done, which instead serves as a bonus track on the Japanese LIVING THINGS release.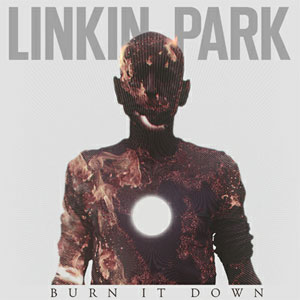 | | |
| --- | --- |
| 01. BURN IT DOWN (03:51) | |
| 02. New Divide (Live from iTunes Festival) (04:28) | |
| 03. In The End (Live from iTunes Festival) (03:38) | |
| 04. What I've Done (Live from iTunes Festival) (04:15) | |

Single

Lyrics

Tabs

Video
Record Label: Warner Bros.
Release Date: April 16, 2012
Formats: CD, Digital Download