A new video has been uploaded to the official Linkin Park YouTube channel. It's a video that features the band jamming and improvising out a small song. You can check it out here below.


​
So with this small song, this can be considered the first release of new music from the band!
As you can see in the video, the band is still in the studio and working hard on the new album. The latest talk is that a new single will possibly be released around
February
or
March
, but that's just speculation. Just a few days ago, we could see on Snapchat that
blackbear
was back in the studio with the band, it is unknown if it was to work on new material or on the same song that was worked on a few months ago. We all eagerly await more details and whatever they worked on.
What do you think of the jam? Is this what the new album will sound like? When do you think the album will be released? Come and discuss in our
forums.
Source:
Linkin Park YouTube
The sixth and final of the bimonthly LPU 15 tracks has been put up for download to LPU members.


clicking here
. In addition,
click here
and watch a Track by Track video where Mike explains the origin of "Part of Me".
What do you make of this song from Linkin Park's early days? Now that this is the final LPU 15 song, what are your expectations towards the new year of
Linkin Park Underground
? You can tell us what you want to see next by logging in to our Forums!
Source:
LP Official Twitter
To celebrate the launch of Linkinpedia (a worldwide fan effort that we both encourage, and plan to help keep as updated as possible), we here at the LPA are happy to provide to the fans some previously unknown Xero information, taken directly from Mike Shinoda himself.

Sat on for almost an entire year, this information was given to us around the same time Mike provided the LPA with the 'official' Xero Demo Tape lyrics. At the time this information was provided to the LPA, Mike had asked us to wait a few months before releasing it, and now...here we are! Enjoy this new insight into Xero, taken directly from Mike himself!

On The Possibility of a 20th Anniversary Xero Celebration/Official Remaster:

"We're not planning to do anything with a Xero anniversary, since the start of the band was amorphous and didn't really have a "start date." It kinda vaguely came into being over the course of [a few] years.

Those recordings that you have [demo tape] are almost definitely the highest quality versions. "

Xero Equipment List (Complete with Commentary from Mike)

"For fun, here's the FULL list of gear Mark and I had when we made the early demos. You're welcome to include this list with your post. I had been collecting these pieces one by one, starting when I was probably about 13. Most of them were used when I bought them.."

Tascam Porta 07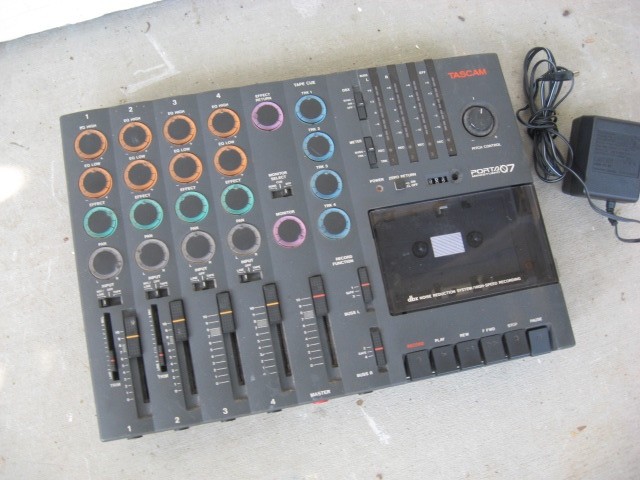 "Everything was recorded on one of these. It had a max of four tracks; I would record on three and bounce those to the 4th, then record over the initial 3. Finals would be bounced out to a separate cassette recorder."

Yamaha PSR 510



"Used for keyboards, mostly bass."

Roland MS 1 sampler


"Played up to 4 samples, didn't have an internal sequencer, was meant to be played by hand"

Akai S900 Sampler



"A 12 bit sampler that saved on floppy disks. A classic. I still have it!"

Alesis HR 16 drum machine


"I didn't use this for its sounds; it was my sequencer, and was used to play the samples on the MS1 and S900..."

Shure SM58 microphone - "All vocals."

Fender Strat Guitar - "Mark's first (and only) guitar."

Crate G20 Amp




We hope you enjoyed this special look into the history of Xero as much as we enjoyed learning about it! What are your thoughts? Do you own any of these pieces of equipment? Let us know in our forums!
Finally some news for all the impatient fans out there. The guys and gals over at Road to Revolution BR have found an interview with Phoenix conducted by the British Courier, recorded after a round of golf at Carnoustie Links. The brief interview talks mainly about Phoenix's experiences with golf, but he briefly touches on the topic of the new Linkin Park album and gives us all the information we were all so desperately craving. He mentions that the band has been in the studio a lot, which we all knew by the incredible amounts of studio photos the band has been uploading to Instagram. At the end of the video, he says the band are approaching the final stages of making the album, and that he hopes to have new music out early in 2017, followed by the full album and a tour around March or April.

In the meantime, there's a lot to look forward to. We can probably expect at least one or two studio updates coming our way, and Chester will continuing his streak of guesting at The Hellcat Saints shows on November 3rd at a charity event. After that, he will perform as part of Kings of Chaos for three nights in a row at the beginning of December.

Watch the interview with Phoenix here.

Excited to find out the album title? Curious about the final release date? Excited for a particular collaboration? Join the discussion in our forums!

Source: The Courier via Road to Revolution BR
Linkin Park band member Chester Bennington will be performing as part of "rock's ultimate supergroup" Kings Of Chaos, who are slated to perform three shows at House Of Blues in Las Vegas, NV, from December 1 through to December 3. As shown on the poster below (via this Facebook post), the band's current incarnation includes other famed rock musicians such as Robert DeLeo from Stone Temple Pilots, Matt Sorum from Guns N' Roses and Corey Taylor from Slipknot and Stone Sour.


Bennington has performed with essentially all of these musicians in the past, most notably with Robert DeLeo during his brief stint as Stone Temple Pilots' frontman. This is also definitely not Bennington's first time fronting a rock supergroup, coming after countless performances throughout the years as part of similar cover acts such as Camp Freddy (later Royal Machines), Bucket Of Weenies and, most recently, The Hellcat Saints.
Fans who attend can expect to hear plenty of classics from the individual band members' other acts, such as Stone Temple Pilots and Guns N' Roses and perhaps even Linkin Park. Additionally, Pollstar reports
here
that the live shows will also feature "surprise special guests".
You can find out more about the show dates and tickets at
Kings Of Chaos' official website
. Tickets for the live events will become available for general sale on
September 30
at
10AM PDT
, and information about pre-sales for all three dates (through Live Nation and Citi) can be read below:
Onsale to General Public
Start: Fri, 09/30/16 10:00 AM PDT

Live Nation / LN Mobile App Presale
Start: Wed, 09/28/16 10:00 AM PDT
End: Thu, 09/29/16 10:00 PM PDT
MLIFE / SIRIUS XM Presale

Start: Wed, 09/28/16 10:00 AM PDT
End: Thu, 09/29/16 10:00 PM PDT
Citi® Cardmember Preferred

Start: Fri, 09/30/16 10:00 AM PDT
End: Thu, 11/03/16 10:00 PM PDT
Citi® Cardmember Presale

Start: Tue, 09/27/16 10:00 AM PDT
End: Thu, 09/29/16 10:00 PM PDT
Source: Kings Of Chaos on Facebook / Pollstar / kingsofchaos.com
This morning, the band shared with us their seventh studio update - this time coming from Chester.


​
Chester briefly shares that he has been working on vocals over the last couple of months, and that he is proud of the work the band has done in the studio thus far. Though there are no major updates or particular insights to be reported, Chester does express that the band has a lot of great material that he hopes "challenges" and "inspires" the fanbase.
Any thoughts on this new update? Discuss it in our
forums
!
As reported a few months ago, Linkin Park has been in the studio with a few different artists working on their new album. One of those artists is Blackbear, who confirmed on Twitter back in June that he was working with the band.


Mike Shinoda
also shared a clip of
some guitar playing
on his snapchat, and the same clip latter ended up in another update from Blackbear, along with some playing around in the studio.
​
What do you think of these clips? Is this a sound that you are exited to hear from Linkin Park? Come and discuss in our
forums
.
Source: YouTube via blackout.
Last month, we challenged you guys to remix a Linkin Park classic and fan favourite, "Runaway". We've all been listening to the "Hybrid Theory" standout for a long time, and were keen to hear some new interpretations from our members. We know that this theme threw some of you for a loop and proved a little difficult, and, as a result, this round produced less entries than you might have expected. Nonetheless, we received some great entries, and choosing a winner was not easy.

In fact, it turned to be impossible, so we ended up with a tie instead, resulting in two victors:
Feenix has been throwing entries into our MMU rounds for quite a few years now, and his colourful take on "Runaway" has taken the cake this time. This remix features a very minimal, 3-minute arrangement carried by a sharp, pristine bassline and a danceable rhythm, all blatantly indebted to the synthpop wave of the 80s. Linkin Park vocal melodies sit nicely over the top, and the result is electronic pop with a hint of darkness that might resonate with fans of Depeche Mode or early Nine Inch Nails.

-Amarez- delivered a reworking of "Runaway" which is a little more experimental, opening with mysterious piano and strings and, without warning, throwing elements of IDM, trap and dubstep at you as it progresses. Running about 5 minutes, this track is packed with contrasting sounds and surprising moments, making for a dynamic and exciting remix that, upon first listen, should keep listeners on their toes. Among its highlights is a sudden drop towards the middle which recalls the awesome industrial halftime section from the "A Thousand Suns" track "Blackout".

We would like to earnestly apologize to those of you who've been asking about this post - we're so sorry for the wait - and, once again, we are extremely grateful to those of who you entered, as well as those who listened to and commented on the entries as they appeared. And, of course, congratulations to the winners!

To close out: for reasons that are too numerous to really go into, we're going to have to put the Monthly Mix-Up to rest for what will likely be an indefinite period.

The Monthly Mix-Up has a long and storied history that we here at the Linkin Park Association are immensely proud of. Throughout the years, we've seen so many people produce so many great entries for every round, and we've also seen a whole lot of people pick up music production as beginners in order to participate. The contest gave LPA's music-making community a major kickstart when it was first introduced in 2012. Since then, friendships have struck up, bands have been founded ... and people who aren't into playing or creating music at all have learned just how much music-making discussion they can endure in the shoutbox!

Our monthly remix contest has also, at certain points, made a splash in the wider Linkin Park community beyond our site. In fact, Linkin Park's own band members (or maybe just one particular member ...) came through to provide theme suggestions and opinions on entrants' works on a couple of occasions. But that's just icing on the cake. There is constant creativity going on within our user base, and it is no doubt a big part of what makes this place special. Putting a spotlight to all of that talent has been amazing.

In closing, we'd like to thank every single one of you who have helped us to make the MMU a resounding success over the past few years. It is because of your creative spirit, and passion for this project that we were able to keep the idea alive for as long as we did. With a new album on the horizon, and the potential for full album stems to be released, there may come a time where the MMU will resurface once more. But for now: thank you all for an incredible run.

The newest of the bimonthly LPU 15 tracks has now been put up for download to LPU members.


In order to download it you need to have a LPU 15 membership. The song is free and can be
downloaded here.
If you wanna know the history and behind the scenes of the writing of this song, there was also a "Track-by-Track" uploaded along the track and that can be seen
here
.
After this there is only one more song from this years LPU to be released, and that will come in October.
Do you like the track? Do you think the wait for the next one now will be too long? Come and discuss in our
forums.
Source: jFar920 via LPUnderground
The studio updates continue to come in, this time it's a podcast with Mike and Brad where they talk about the new studio, take some questions from fans and talk about the new albums process in depth. You can listen to it on Soundcloud.


What do you think of this update and it's new format? Come and discuss in our
forums
.