Barely stopping for breath after just announcing their upcoming appearance at 2017's Nova Rock festival, Linkin Park are now confirming that they will perform in the headline slots at two other events next year: Hurricane Festival and Southside Festival, both in Germany.


June 23
and
June 25
,
2017
. The rosters for both events are currently identical and include acts ranging from rock heavyweights such as Blink 182 and Green Day to electronic/dance figures such as Boys Noize and Digitalism.
Although Hurricane and Southside are both decades old, these will be Linkin Park's first appearances at either festival. Aside from the fact that they will be one of the headlining acts at both festivals, information about the specific dates the band will perform on is not yet available, as noted in
linkinpark.com's events list
. In the meantime, tickets to the shows and other details regarding Hurricane and Southside can be found
here
and
here
, respectively.
Source: Linkin Park on Twitter
Linkin Park
has just announced their first tour date for
2017
, headlining
Nova Rock
in
June,
returning to
Austria
again having been there in
2015
at the latest.
Hey everyone, we're still in the studio working on new music for you but we couldn't wait to announce our first confirmed tour dates of 2017.

Austria - we are returning to Nickelsdorf to play the Nova Rock Festival in June 2017. It's been too long and we can't wait to see you.

-LINKIN PARK
This will be the fourth performance at the festival for the band, having performed there in
2007
,
2011
and
2012
earlier. They are joined at the festival by bands such as
Green Day, System of A Down, Blink -182, In Flames
and
Prophets of Rage
. The festival takes place between June 14 - 17, it has not been specified which day Linkin Park plays, but tickets can be bought
here.
What do you think? Are you going to this show? Come and discuss in our
forums.
Source:
Linkin Park Twitter
Linkin Park never stops writing music. They can release an album and yet they continue to write music while promoting that album, touring for that album or just have downtime. When Chester broke his leg and had to cancel the rest of the Winter North American 2015 Tour, the band got back to writing instead. This is what brought us the Fort Minor song Welcome.

It has now been over a year that the band went into the studio to specifically write and record their seventh album. Back in December of 2015 we here at LPAssociation did a podcast with Mike Shinoda where he talked about his and the band's mindset for the album. He also said that they were aiming for a "second half of 2016" release. This led fans to wildly speculate about how the first single would come in June and the album in September. Like fans do. It is however now the end of October, and besides TINY clips from Instagram, Snapchat and Facebook videos, we have no music released yet. Well ok, we have the awesome Bongo Band Jam.

It is not unusual for a Linkin Park album to be pushed back, remember when Minutes to Midnight was gonna be released in 2006? Or how in the video that originated the song Lockjaw, Mike said "hopefully have a new Linkin Park album out to you guys in 2009", talking about A Thousand Suns? That didn't come out until September of 2010. The releases of LIVING THINGS and The Hunting Party were a bit quicker though, but that was because the band had clear goals of what they wanted to do. Even though they scrapped the earliest demos for The Hunting Party and went in a completely new direction for the sound of that album.

So what do we know about the album? Well, nothing really. What we do know is that the band has again brought in more collaborators. Whether this is for writing material that will appear on the Linkin Park album, material for the collaborators release, or just to inspire the band, is unknown. The collaborator that we know the most about as of now, is Blackbear. He has appeared in the studio on multiple occasions and has "released" clips of whatever they're working on, on Snapchat. Other collaborators as of this writing include: Jon Green, Connor Youngblood, Justin Parker, and Andrew Goldstein. The interesting part of the Blackbear collaboration, is that apparently there is more planned than just music. In mid-September, some mock-ups for merch from the two artists were captured on Instagram. Something that would not normally happen for just a song from an album. So if the song with Blackbear comes out, it might be a release from him or it must be a really special song to warrant the mash-up merch.


​
One of the things that the band has said from the start of this album's process, is that they want to focus more on song writing. So what they did was to start off with writing melodies on guitar and piano, then putting words and lyrics over that. Lyrics have been in focus since the start.
As for the sound for the album, the little that we have heard suggests a more mellow tone compared to most other Linkin Park albums. In the podcast that Mike and Brad did for the sixth studio update, the playlists that the band upload to Spotify is more what the band is listening to at the moment rather than what the album will sound like. It is however safe to assume that it will be somewhat of a guide to give an idea of what you can maybe expect to hear.
Speaking of what you can maybe expect to hear, let's take a look at all the videos that have been shared from the studio on all the various social media. Let's go back as far as we can, starting with an Instagram video from
January 28th.
Then we head over to
March 7th
,
Conner Youngblood
is in the studio and playing with a
Moog Theremini
. Mike captured this on a Facebook live stream.
On April 26th
, Mike again streamed to Facebook, this time showing that
Rob
was recording drums on a electronic drum kit. At the time of the stream they were trying to get a better drum sound from the kit because it sounded "too 80s", according to Rob.
On May 20th
, there was another Facebook live stream, again recording drums. This time however, they were in a different studio and using an acoustic drum kit. The stuff that they recorded would be sliced up and used for loops and samples on a track that they at the time had chords and a tempo for, but not anything else.
On July 28th
, Mike and Brad uploaded a podcast. The podcast clocks in at 23:46 and they go in depth talking about what they are doing and what they has been doing.
​
On August 8th
, we got our first taste of the social media sharing from Blackbear, posting a clip on Instagram of Brad playing some acoustic guitar with him singing over it.
​
August 22nd
, saw a whole Snapchat story from Blackbear where he was in the studio with the band, screwing around and testing things. We also get some sweet guitar noodling.
September 21st
, we got an Instagram story from Mike where he showed his talents with sampling, showing how he samples some cowbells, puts effects on them, plays them as notes on a keyboard, and then mixes them into the song with some reverb. The result is great.
​
Mike shared on
October 12th
, via Snapchat how he worked on some background vocals using plenty of effects on his voice. The synth/bell sound heard in this clip sounds very much like the one used in Blackbears "idfc", could this be the song they are working on?
​
Because the day after, on
October 13th
, Blackbear and Andrew Goldstein came back into the studio and again. More guitar is worked on in this clip, shared on Snapchat by Mike.
On October 17th
, we got our first full "song" from these studio sessions. It's a 57 seconds long jam that the band did, going under the title of
Bongo Band Jam
. We're unsure what the "
Studio Moments
" will mean in the future, but it's probably just like this, sharing things from the studio in a more "professional" way rather than their cellphone cameras on social media.
​
We got another "Studio Moments" video on
October 19th
. This is a 17 second video that wasn't uploaded to YouTube, but we see Rob playing some drums.
​
And on
October 25th
we got a tiny little clip from Mike on Snapchat. The rest of the story was him going up to British Colombia to see a Chance The Rapper concert, so I cut that out as it was not relevant to this.
​
Finally, on
October 26th
we recieved another
Studio Moments
video from the bands Instagram. It features the members of the band beating on ... seemingly whatever they could get their hands on. Is Phoenix smacking a pizza box into the floor?
​
If you want to read the conversations that were had when most of these were originally reported, I'll leave the links here below.
A new video has been uploaded to the official Linkin Park YouTube channel. It's a video that features the band jamming and improvising out a small song. You can check it out here below.


​
So with this small song, this can be considered the first release of new music from the band!
As you can see in the video, the band is still in the studio and working hard on the new album. The latest talk is that a new single will possibly be released around
February
or
March
, but that's just speculation. Just a few days ago, we could see on Snapchat that
blackbear
was back in the studio with the band, it is unknown if it was to work on new material or on the same song that was worked on a few months ago. We all eagerly await more details and whatever they worked on.
What do you think of the jam? Is this what the new album will sound like? When do you think the album will be released? Come and discuss in our
forums.
Source:
Linkin Park YouTube
The sixth and final of the bimonthly LPU 15 tracks has been put up for download to LPU members.


clicking here
. In addition,
click here
and watch a Track by Track video where Mike explains the origin of "Part of Me".
What do you make of this song from Linkin Park's early days? Now that this is the final LPU 15 song, what are your expectations towards the new year of
Linkin Park Underground
? You can tell us what you want to see next by logging in to our Forums!
Source:
LP Official Twitter
To celebrate the launch of Linkinpedia (a worldwide fan effort that we both encourage, and plan to help keep as updated as possible), we here at the LPA are happy to provide to the fans some previously unknown Xero information, taken directly from Mike Shinoda himself.

Sat on for almost an entire year, this information was given to us around the same time Mike provided the LPA with the 'official' Xero Demo Tape lyrics. At the time this information was provided to the LPA, Mike had asked us to wait a few months before releasing it, and now...here we are! Enjoy this new insight into Xero, taken directly from Mike himself!

On The Possibility of a 20th Anniversary Xero Celebration/Official Remaster:

"We're not planning to do anything with a Xero anniversary, since the start of the band was amorphous and didn't really have a "start date." It kinda vaguely came into being over the course of [a few] years.

Those recordings that you have [demo tape] are almost definitely the highest quality versions. "

Xero Equipment List (Complete with Commentary from Mike)

"For fun, here's the FULL list of gear Mark and I had when we made the early demos. You're welcome to include this list with your post. I had been collecting these pieces one by one, starting when I was probably about 13. Most of them were used when I bought them.."

Tascam Porta 07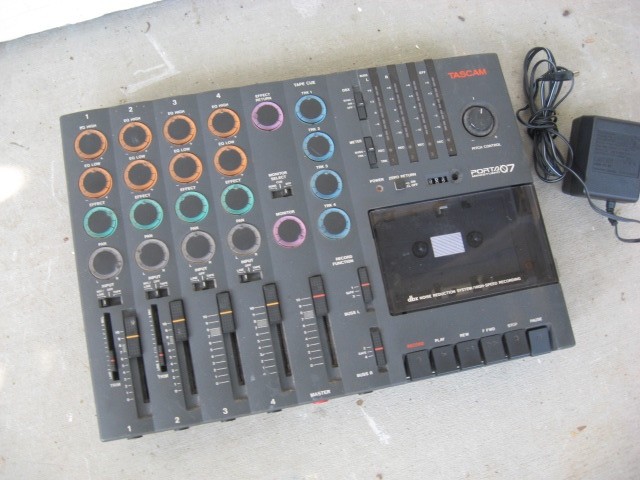 "Everything was recorded on one of these. It had a max of four tracks; I would record on three and bounce those to the 4th, then record over the initial 3. Finals would be bounced out to a separate cassette recorder."

Yamaha PSR 510



"Used for keyboards, mostly bass."

Roland MS 1 sampler


"Played up to 4 samples, didn't have an internal sequencer, was meant to be played by hand"

Akai S900 Sampler



"A 12 bit sampler that saved on floppy disks. A classic. I still have it!"

Alesis HR 16 drum machine


"I didn't use this for its sounds; it was my sequencer, and was used to play the samples on the MS1 and S900..."

Shure SM58 microphone - "All vocals."

Fender Strat Guitar - "Mark's first (and only) guitar."

Crate G20 Amp




We hope you enjoyed this special look into the history of Xero as much as we enjoyed learning about it! What are your thoughts? Do you own any of these pieces of equipment? Let us know in our forums!
Finally some news for all the impatient fans out there. The guys and gals over at Road to Revolution BR have found an interview with Phoenix conducted by the British Courier, recorded after a round of golf at Carnoustie Links. The brief interview talks mainly about Phoenix's experiences with golf, but he briefly touches on the topic of the new Linkin Park album and gives us all the information we were all so desperately craving. He mentions that the band has been in the studio a lot, which we all knew by the incredible amounts of studio photos the band has been uploading to Instagram. At the end of the video, he says the band are approaching the final stages of making the album, and that he hopes to have new music out early in 2017, followed by the full album and a tour around March or April.

In the meantime, there's a lot to look forward to. We can probably expect at least one or two studio updates coming our way, and Chester will continuing his streak of guesting at The Hellcat Saints shows on November 3rd at a charity event. After that, he will perform as part of Kings of Chaos for three nights in a row at the beginning of December.

Watch the interview with Phoenix here.

Excited to find out the album title? Curious about the final release date? Excited for a particular collaboration? Join the discussion in our forums!

Source: The Courier via Road to Revolution BR
Linkin Park band member Chester Bennington will be performing as part of "rock's ultimate supergroup" Kings Of Chaos, who are slated to perform three shows at House Of Blues in Las Vegas, NV, from December 1 through to December 3. As shown on the poster below (via this Facebook post), the band's current incarnation includes other famed rock musicians such as Robert DeLeo from Stone Temple Pilots, Matt Sorum from Guns N' Roses and Corey Taylor from Slipknot and Stone Sour.


Bennington has performed with essentially all of these musicians in the past, most notably with Robert DeLeo during his brief stint as Stone Temple Pilots' frontman. This is also definitely not Bennington's first time fronting a rock supergroup, coming after countless performances throughout the years as part of similar cover acts such as Camp Freddy (later Royal Machines), Bucket Of Weenies and, most recently, The Hellcat Saints.
Fans who attend can expect to hear plenty of classics from the individual band members' other acts, such as Stone Temple Pilots and Guns N' Roses and perhaps even Linkin Park. Additionally, Pollstar reports
here
that the live shows will also feature "surprise special guests".
You can find out more about the show dates and tickets at
Kings Of Chaos' official website
. Tickets for the live events will become available for general sale on
September 30
at
10AM PDT
, and information about pre-sales for all three dates (through Live Nation and Citi) can be read below:
Onsale to General Public
Start: Fri, 09/30/16 10:00 AM PDT

Live Nation / LN Mobile App Presale
Start: Wed, 09/28/16 10:00 AM PDT
End: Thu, 09/29/16 10:00 PM PDT
MLIFE / SIRIUS XM Presale

Start: Wed, 09/28/16 10:00 AM PDT
End: Thu, 09/29/16 10:00 PM PDT
Citi® Cardmember Preferred

Start: Fri, 09/30/16 10:00 AM PDT
End: Thu, 11/03/16 10:00 PM PDT
Citi® Cardmember Presale

Start: Tue, 09/27/16 10:00 AM PDT
End: Thu, 09/29/16 10:00 PM PDT
Source: Kings Of Chaos on Facebook / Pollstar / kingsofchaos.com
This morning, the band shared with us their seventh studio update - this time coming from Chester.


​
Chester briefly shares that he has been working on vocals over the last couple of months, and that he is proud of the work the band has done in the studio thus far. Though there are no major updates or particular insights to be reported, Chester does express that the band has a lot of great material that he hopes "challenges" and "inspires" the fanbase.
Any thoughts on this new update? Discuss it in our
forums
!
As reported a few months ago, Linkin Park has been in the studio with a few different artists working on their new album. One of those artists is Blackbear, who confirmed on Twitter back in June that he was working with the band.


Mike Shinoda
also shared a clip of
some guitar playing
on his snapchat, and the same clip later ended up in another update from Blackbear, along with some playing around in the studio.
​
What do you think of these clips? Is this a sound that you are exited to hear from Linkin Park? Come and discuss in our
forums
.
Source: YouTube via blackout.