REMEMBER THE NAME
Remember The Name is the 2nd US single from Fort Minor's debut album The Rising Tied. Originally intended to be the album's debut single, "Remember The Name" was leaked onto the internet on August 20th, 2005, causing the song to circulate around the internet several months prior to the album's release. As a result of the leak, Fort Minor opted to release "Petrified" first in the US, releasing "Remember The Name" as the 2nd US single, and third single internationally. The song peaked at 66 on the Billboard Hot 100, but has remained popular due to it's extensive use as an "anthem" at sporting events and it's common occurrence in sports related programming/media (most notably during the 2006/2007 NBA Playoffs and the 2008 NBA Draft).

The music video was directed by Kimo Proudfoot and follows the members of Fort Minor (Mike Shinoda, Ryu and Takbir) as they walk through a bar and interact with patrons, with the camera alternating between each member during their respective verses. Cameos by Linkin Park guitarist Brad Delson, and vocalist Chester Bennington can be seen as well as a quick cameo by Rob & Big from MTV's hit show Rob & Big.

Rather then be released as a stand alone single, the song was combined together with Petrified for it's release, with the Vinyl featuring the acapellas/instrumentals of both Petrified and Remember The Name, as well as the single versions of both songs.

PETRIFIED
Petrified was considered the first official debut single from The Rising Tied, despite Remember The Name being leaked first and gaining momentum on radio and promotional material. The song also had a video directed by Robert Hales, which featured Fort Minor in a suburban area performing their lyrics to the camera. They also made use of flares and other lighting effects to enhance the visual presentation.

As well as being featured on the album The Rising Tied, the song was also on the pre-released Mixtape "We Major", along with a remix of the song titles Petrified [Dorrs Remix].

Despite being a lead out single for the album, Petrified failed to chart on any major listings.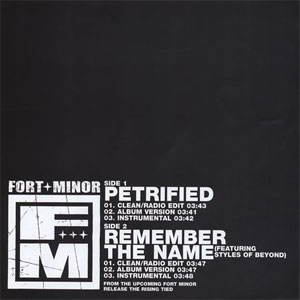 | | |
| --- | --- |
| 01. Petrified (Radio Version) | |
| 02. Petrified (Dirty Version) | |
| 03. Petrified (Instrumental) | |
| 04. Remember The Name (Radio Version) | |
| 05. Remember The Name (Dirty Version) | |
| 06. Remember The Name (Instrumental) | |

Single

Lyrics

Tabs

Video
Record Label: Machine Shop Records
Release Date: October 3, 2005
Produced by Mike Shinoda
Formats: CD, Vinyl