Some of these guests have performed with the band previously at various points in their career.
LINKIN PARK & FRIENDS - CELEBRATE LIFE IN HONOR OF CHESTER BENNINGTON
' will take place at the Hollywood Bowl in Los Angeles with details below:
forums
.
Source:
Linkin Park
Linkin Park have released a music video for their new single 'One More Light' off the album with the same name. The video is a beautiful look at Chester with footage from his life with Linkin Park. It's incredibly touching and heartbreaking. The music video is directed by Linkin Park band-mate Joe Hahn and Mark Fiore. Watch the video below:


This is the first video to be directed by Joe Hahn since 'Until It's Gone' in 2014 whilst Mark Fiore directed 'Talking to Myself' which was released off 'One More Light' back in July.
Let us know what you think of the 'One More Light' music video on the
forums
.
It appears Linkin Park will be releasing the title track 'One More Light' as a single going by a listing that has appeared on a website that is known for showing upcoming singles and tracks impacting radio. AllAccess.com has been used many times in the past to show when a new track from the band will be a single and 'One More Light' has been listed for an October 3rd release.


performed the song live on Jimmy Kimmel Live
following the death of Chris Cornell back on May 18th 2017. The song has always held a special emotional connection and now we feel that more than ever following the death of Chester Bennington in July. The song has always made perfect sense for a single and releasing it feels like a fitting way to honor Chester's legacy with Linkin Park.
Source:
All Access
Steve Aoki has released a tribute to Chester Bennington called "Darker Than The Light That Never Bleeds (Chester Forever Steve Aoki Remix)". This remix is a mash-up of Aoki's and Linkin Park's previous collaborations "A Light That Never Comes" and "Darker Than Blood". A Light That Never Comes was released in 2013 and featured on Linkin Park's remix album Recharged. Darker Than Blood was released in 2015 and featured on Aoki's album Neon Future II.

Net proceeds of the remix will go to Music For Relief's One More Light Fund in Chester's name.

What do you think of the remix? Let us know in our
forums
!
Source:
Steve Aoki's Twitter
The official Linkin Park YouTube channel just uploaded a montage of clips from memorials held around the world in memory of Chester. The video is set to an instrumental version of "One More Light" and ends with a short message from the band and the new Linkin Park hexagon logo with a missing side.

If you've attended a memorial for Chester, or just want to talk about your coping, please don't hesitate to use this thread to do so. We are all here to listen and support one another. Watch the video below and tell us what you think in our forums.


Music For Relief
where you can donate to the
One More Light Fund
, set up with the intention of helping people going through similar struggles that Chester went through. You can join the conversation on
Twitter
with the hashtags
#FuckDepression
and
#MakeChesterProud.
You can also find phone numbers to international suicide prevention hotlines
here.
Rest in peace, Chester.
​
Linkin Park have made the tour tee shirts that were made for the now cancelled One More Light World Tour available for purchase at their official store. The design, which can be seen below, features "Linkin Park" on the left chest, the "Hex Logo" design on the right sleeve and a combination of the One More Light album artwork along with the tour dates on the back.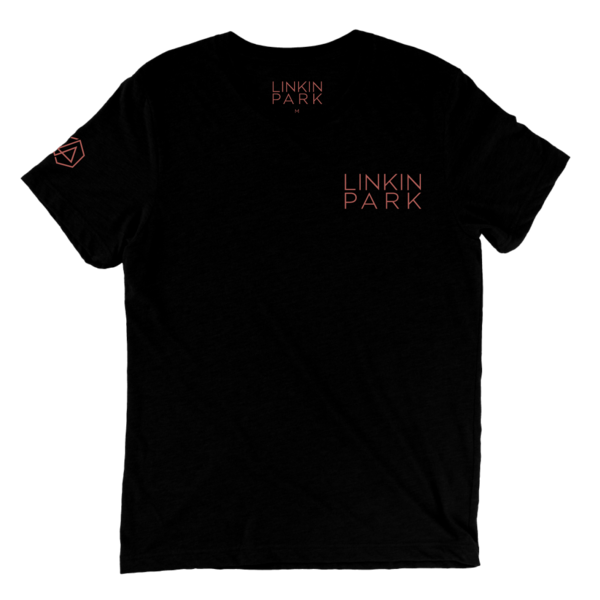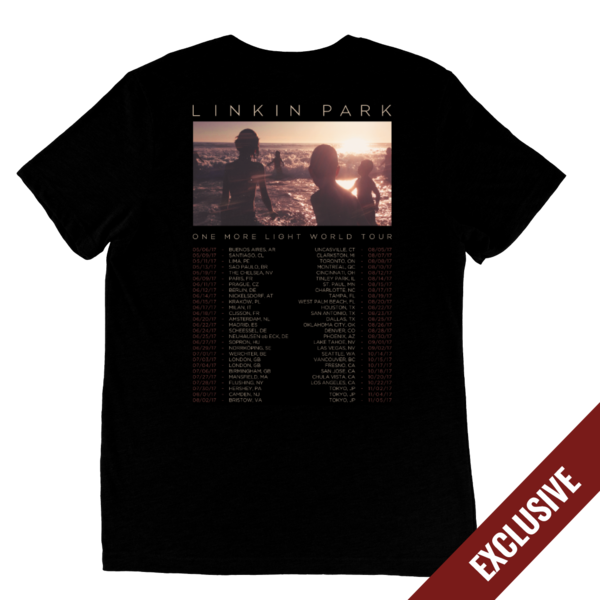 Will you be picking up your tour tee? Let's talk about it in our forums.

Source | Linkin Park Store
It has been slightly more than a month since all of our hearts were broken with the horrible news of the passing of Chester Bennington. We all are still going through the pain of loss and putting into words what we in the fanbase are feeling is impossible. But in some uplifting and hopeful news, the band just released a statement on Facebook, Twitter and Instagram, mentioning the future of the band and that a special Los Angeles event will be held soon. You can read the full statement below.


As you can see, no details about the event are mentioned, so we don't know what it will entail. But it's safe to say it will be emotional.
We haven't posted much in the time since Chesters passing, so we want to take this opportunity to say to all the fans and other fansites, Thank You. Thank you for being there for each other and helping in whatever way you can. If it's attending a memorial, talking to someone feeling down, doing charity auctions or cataloguing all the memorial events and putting them into an
interactive map
... Thank You. The Linkin Park fanbase has truly shown it has the best fans.
Come discuss this in our
forums
.
Source: Linkin Park Facebook via Decay
Talinda Bennington, wife of Chester Bennington released a statement today to the public on the loss of her incredible husband through the band's publicist. You can read the statement below:

One week ago, I lost my soulmate and my children lost their hero-their
Daddy. We had a fairytale life and now it has turned into some sick
Shakespearean tragedy. How do I move on? How do I pick up my shattered
soul? The only answer I know is to raise our babies with every ounce of
love I have left. I want to let my community and the fans worldwide know
that we feel your love. We feel your loss as well. My babies are so young
to have lost their daddy. And I know that all of you will help keep his
memory alive. He was a bright, loving soul with an angel's voice. And now
he is pain free singing his songs in all of our hearts. May God Bless us
all and help us turn to one another when we are in pain. Chester would've
wanted us to do so. Rest In Peace, my love.

Always,

Mrs.Talinda Bennington

To Talinda, Chester's children, the band and the family: Words cannot adequately express how sorry we are for your tragic loss. You are in our thoughts during this difficult time.
Following the absolutely devastating news regarding Chester Bennington's passing on the 20th of July, the band posted this heartfelt message on their website and Facebook account today:


Dear Chester,

Our hearts are broken. The shockwaves of grief and denial are still sweeping through our family as we come to grips with what has happened.

You touched so many lives, maybe even more than you realized. In the past few days, we've seen an outpouring of love and support, both public and private, from around the world. Talinda and the family appreciate it, and want the world to know that you were the best husband, son, and father; the family will never be whole without you.

Talking with you about the years ahead together, your excitement was infectious. Your absence leaves a void that can never be filled—a boisterous, funny, ambitious, creative, kind, generous voice in the room is missing. We're trying to remind ourselves that the demons who took you away from us were always part of the deal. After all, it was the way you sang about those demons that made everyone fall in love with you in the first place. You fearlessly put them on display, and in doing so, brought us together and taught us to be more human. You had the biggest heart, and managed to wear it on your sleeve.

Our love for making and performing music is inextinguishable. While we don't know what path our future may take, we know that each of our lives was made better by you. Thank you for that gift. We love you, and miss you so much.

Until we see you again,

LP

Visit Chester.LinkinPark.com
We will keep you posted should any other statement come from the band in the coming days.
We miss you, Chester. Hard to believe you're gone.
In a decision that should come as no shock to anyone, various media outlets are reporting that Linkin Park have cancelled their One More Light North American Tour, which was set to begin next week in Boston, Massachusetts. Live Nation has confirmed that tickets will be refunded at the point of purchase. No word yet on when that process will kick off.


​
Linkin Park are expected to release a statement soon, when ready.